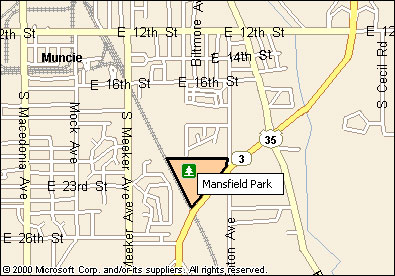 Mansfield Park, 2801 S. Eaton (located at the end of Eaton Avenue, just south of Memorial Drive), in Southeast Muncie.
Overview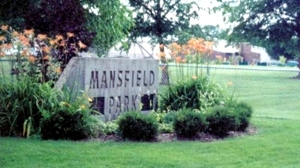 Mansfield Park, one of Muncie's hidden pleasures, is inviting you to experience the enjoyment of a day at the park. Both a place for relaxation and recreation, the park tailors to the needs of all its patrons. The events building, a significant asset of Mansfield Park, stands directly across from the pond. This large, multi-purpose building can be rented for wedding receptions, meetings, and much more. Attributes like two fireplaces and kitchen facilities make it a convenient and inviting place to have your event.
One of the most celebrated features of the park is the pond, the focal point of the entire park. Set in the center of rolling, green lawns, it lends itself to the beautiful and serene atmosphere of Mansfield Park. The pond attracts many people, whether it is for a peaceful afternoon of fishing or a day in the sun. In one corner of the pond is a raised gazebo, a place to rest by the water.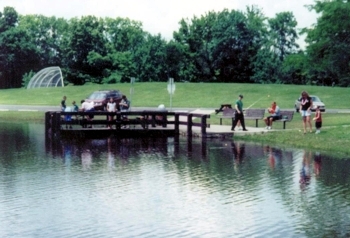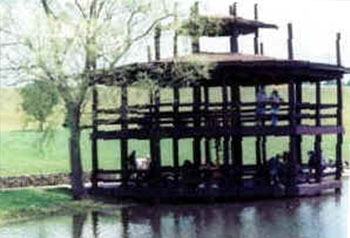 Expansive lawns for pick-up games of football or ultimate Frisbee surround the pond. Shuffleboard courts and horseshoe pits have also been added. For the children, a full play set can provide hours of fun. A pavilion of picnic tables on the park grounds is the perfect place for an outdoor meal with friends or family.
The Mansfield Park Events Building is rented on a first-come-first serve basis. Your event date is not confirmed until you have signed a rental contract agreement and received a receipt for your rental payment.
For weekend rentals, Saturday or Sunday, the charge is $275.00. The Building can be opened as early as 7:00 AM and rented as late as 10:00 PM.
For weekday rentals, Monday through Friday, the charge is $25.00 per hour with a maximum of three hours.
We also require a Security Deposit that must be paid on or before 10 business days prior to your event date. For a non-alcohol event the security deposit is $100.00. The Security Deposit for an alcohol event is $200.00.
If there will be any alcohol present during your rental of the Mansfield Park Events Building, you must furnish to the Trustee proof of Liquor Liability Coverage. Proof of obtaining Liquor Liability Coverage must be received in the Trustee's office on or before 10 business days prior to your event date.
If you would like to rent the Mansfield Park Events building, you may call Kathy Slattery at 765-808-8623.